All utility billing as well as public records of assessing, cemetery management, current tax, and delinquent personal property tax can be found on our municipal dashboard below.
Taxes & Payment Information
* Online payments are only available between July 1 and February 27 of the current tax year.
* Taxes paid after March 1 are due to the Otsego County Treasurer's office; additional interest and penalties apply.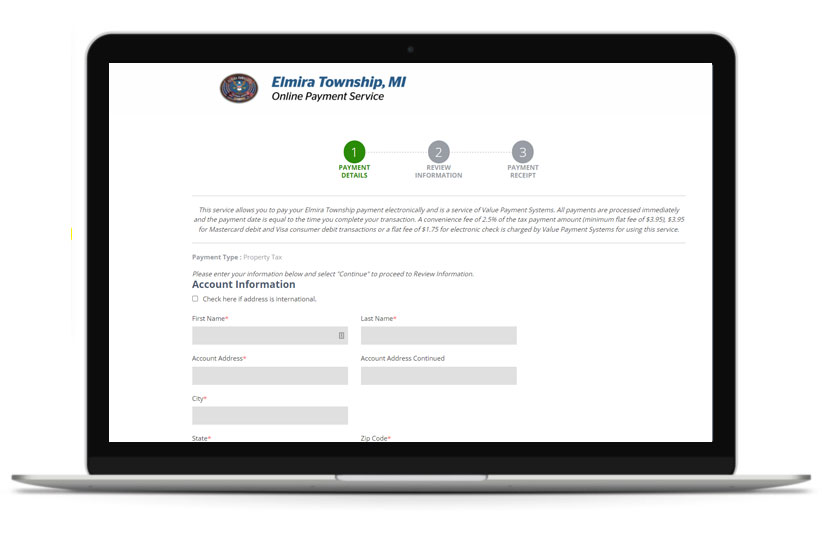 There are four ways to make a tax payment.
1. Send your payment by mail to : Elmira Township Treasurer, 1404 N. Townline Rd., Gaylord, MI 49735
2. By appointment: Call the Elmira Township Treasurer at 989-732-4446. Most phone calls will be returned the same day between 4:00 pm and 8:00 pm Monday through Thursday. Friday calls may be returned on Saturday before 11am or the evening of the next business day.
3. By credit card by visiting the www.paylocalgov.com/Elmira-MI. This link is also provided under the "Tax Roll" tab on the home page. You may also call the treasurer's office to pay over the phone (989-732-4446). The fees are 2.5% for credit cards with a minimum of $3.95, a flat fee of $3.95 for all debit cards, and $1.75 E-check fee (available online only).
4. In person at the Gaylord Main Street branch of Community Financial Credit Union (next to Aldi's), July 1 through February 28. The top portion of your tax bill is required to make a payment. Community Financial Credit Union only takes the payment and does not provide any other tax information, including information on late fees and interest.
You can register to vote at the Secretary of State's branch office, the County Clerk's Office, or the City Clerk's Office.
Elmira Township is part of the State Wide Qualified Voter's File (QVF). This voter's file works in conjunction with driver's license records. Effective April 1, 2000, Michigan law requires that the same address must be used for driver license and voter registration purposes. Therefore, if the residence address you provide for driver license/personal I.D. card purposes differs from your voter registration address as it appears on the Qualified Voter File, the Secretary of State will automatically change your voter registration to match the residence address on your driver license/personal I.D. card, after which your voter registration at your former address will no longer be valid for voting purposes. A new voter registration card, containing the information of your polling place, will be provided to you by the clerk of the jurisdiction where your residence address is located.
Some situations, such as a voter who has moved or changed his/her name, could cause the voter's name to be inadvertently removed from the QVF precinct list. The Clerk's Office maintains all voters in a master card file and is checked when missing voters are brought to our attention. If you have not voted within the last few years, please call the Clerk's Office to check that you are registered and entered correctly into our system.
If you are not sure if you are registered to vote, please call the City of Gaylord Clerk's Office at 989.732.4060.
When and where do I register to vote?
You can register to vote at anytime at the City Clerk's Office, County Clerk's Office, any Secretary of State branch office, and designated state agency offices.
If you are not sure if you are registered to vote, please call the City of Gaylord Clerk's Office at 989.732.4060.
I'm not sure if I am registered, how do I find out?
You can call the City Clerk's Office and they will be happy to check for you. Keep in mind that there is a registration cut-off date of 30 days prior to an election, so make sure you give yourself sufficient time to register in case you aren't. To be eligible to vote in an election, you must have registered at least 30 days prior to that election.
I've moved – where do I vote?
If you have moved within the city and have not changed your registered address, you vote at your old precinct and fill out a change of address form. You will receive a new voter identification card with your new precinct location.
When you move out of the city, you must register in your new city or township. If the move was within 60 days of the election, you are entitled to vote at your old precinct; but you must sign a cancellation form at that time. 
Also helpful is the Secretary of State's new voter information website:  www.michigan.gov/sos
I've misplaced my Voter Identification Card, am I able to get a replacement even though I have not moved?
Yes, contact the City Clerk's Office and ask them to verify that you are currently registered and if you are, ask them to mail you a new Voter Identification Card.
Also known as Green Cemetery. HALLOCK CEMETERY is located on Parmater Road, 1/2 mile east of Hallock Road in Section 23 of Elmira Twp. Period of gravestones are from 1822 . Identification project was done approximately 1978 by the Otsego County Historical Society and contains ? gravesites. The original plat is framed and on display at the Elmira Township Hall in Elmira. It was originally known as East Elmira Cemetery. It is township owned and Active.
The cemetery sign was erected by Richard Theisen in memory of his son Terry Theisen. The "Davises" who were early settlers and lived across from the cemetery may have planned and arranged for the Elmira Township Cemetery as it was originally called.